2 DAYS MEKONG DELTA CRUISE ON "LE COCHINCHINE"– HO CHI MINH CITY – CAI BE – CAN THO (ENDING IN CAN THO)
Joint Cruise (SGMKLCCT02): Daily departure from Ho Chi Minh City (private transfers with local English or French-speaking guide). Other language speaking guide at surcharge. Cruise on joint basis with local English-speaking guide. Note that your private tour guide will not accompany you aboard.
Explore the Great Mekong River aboard the charming "Le Cochinchine". The cruises offer a variety of options on travelling on or along the Mekong River while exploring the lush vegetation of the Mekong Delta and sampling local culture. This cruise takes you to places which cannot be reached by road and offers a greater insight and experience than any other way of exploring this fascinating region.
DAY 1: HO CHI MINH CITY – CAI BE – CAN THO (-/L/D)
Pick-up at your hotel in Ho Chi Minh City and transfer to Cai Be, a 2.5 hour drive.
12:30 hrs: Board "LE COCHINCHINE" and start your cruise towards Can Tho via Cho Lach and Tra On.
Depending on the river tide, disembark and take a pleasant walk or cycle through the countryside to discover the local farming life and the many fruit orchards the Mekong Delta is famous for.

Then the cruise continues to Tra On. Enjoy the magnificent sunset while leisurely cruising on the Mekong River. A wonderful day with picturesque ferry crossings over the Mekong River branches ends with dinner and overnight on board.
Accommodation aboard Le Cochinchine

Meals included: Lunch on board
Dinner on board
DAY 2: TRA ON – CAN THO (B/-/-)
Rise by the sound of the river and watch the Mekong Delta coming to life for another lovely day. After breakfast, the cruise continues to Can Tho. Upon arrival to Can Tho, a small boat will take you to explore the Cai Rang market, one of the most bustling floating markets in the Mekong Delta with hundreds of small boats laden with fruits, barging and jostling for space as owners attempt to sell their goods.

Disembarkation from Le Cochinchine is at 10:00 hrs.
Accommodation in Can Tho is not included. A transfer back to Ho Chi Minh City can be arranged at surcharge.

Meals included: Breakfast on board
"WE WISH YOU AN ENJOYABLE JOURNEY"
TOUR PRICE
Price in USD per full paying guest in shared twin/double
room occupancy in a party of

Service Description

1 guest

2 guests

3-5 guests

6-9 guests

Child (*)

Single room supplement

Joint Cruise & private transfers from Ho Chi Minh City

461.00

284.00

265.00

227.00

160.00

103.00
(*) Child policy:
Maximum one (1) child per cabin applicable only if sharing a cabin with two (2) full paying adults. Extra bed (or mattress) for child is subject to the choice of cabin and boat. Surcharges will apply.
OUR TOUR PRICES ARE INCLUSIVE OF
• Accommodation in shared twin room with air-condition (AC) and private bathroom
• Accommodation in shared twin room with air-condition (AC) and private bathroom
• Meals as stated in the programme B= breakfast, L= lunch, D= dinner
• Transfers to/from Ho Chi Minh City with English or French-speaking guides in private air-conditioned vehicles
• Side excursions during the cruise are conducted by an on-board resident English-speaking guide
• All entrance and boat fees as mentioned in the programme
• Drinking water and cold towels available on the vehicles
• Bicycle
• Small boat ride
NOT INCLUDED ARE
• Optional tours
• Surcharges for other language guides
• Surcharges for Lunar New Year (TET) holiday
• Personal travel insurance
• Personal expenditure, such as drinks, souvenirs, laundry, camera fees, communications, postage, gratuities etc.
• Meals and services other than mentioned in the programme
• Drinks with meals
• Compulsory gala dinners during festive seasons and peak season surcharges which will be advised at the time of booking
• Visa application and visa stamp fees at Vietnamese embassies overseas and/ or upon arrival (Please note that a visa is compulsory for most nationalities.)
• Early check-in and late check-out at hotels, if not mentioned in the programme
CANCELLATIONS
• Refunds will not be given for unused or cancelled services after the tour arrangements have commenced.
• FIT (Individuals): Cancellation charges are calculated from the day the written notification is received by the company or agent as a percentage of the net total tour price as shown plus any surcharges (e.g. ticketed air sectors, other penalties imposed by suppliers such as hotels):
• Between 29- 21 days before departure: According to the costs incurred will be charged
• Between 20 days and 15 days prior to departure: 25% of package price
• Between 14 days and 8 days prior to departure: 50% of package price
• Between 07 days and 2 days prior to departure: 75% of package price
• 1 day prior to departure or no show: 100% of package price
• GIT (Groups): Cancellation of tours due to minimum number of participants will be advised 6 weeks before departure of the tour; in which case Happy Go Travel will offer an alternative tour of a similar standard or a full refund. Cancellation policy for GIT bookings will be advised separately case by case.
• HOTEL ONLY
• Between 29- 21 days before departure: no charge
• Between 20 days and 15 days prior to departure: 60% of accommodation price
• Between 14 days and 0 days prior to departure: 100% of accommodation price
• Certain Hotels impose stricter cancellation policies which will be advised separately.
PLEASE NOTE
• For air ticket reservations, we require the guests' full names AS THEY APPEAR IN THEIR PASSPORTS. Airfares and reservations are always subject to change until paid in full and ticketed.
• Airfares are subject to increase without prior notice.
• Please be advised that prices will be adjusted periodically in case of fuel price increase by our suppliers.
• This is a quotation only and neither reservations for services nor hotel bookings have been made.
• Small deviations in the tour program are sometimes necessary, depending on weather, road conditions, flight schedules and room availability.
CONTACT INFORMATION OF HAPPY GO TRAVEL
HAPPY GO TRAVEL - HANOI HEAD OFFICE:
Address: 5th floor, 130F Thai Thinh str, Trung Liet, Dong Da, Hanoi, Vietnam
Telephone during office hours: +84 24 32 686 686; +84 24 32 898 898
Fax: +84 24 32 171 783
EMERCENCY CONTACTS (ENGLISH AND GERMAN-SPEAKING)
Mobile: Mr. Thang (Managing Director) (+84) 934556056
IMPORTANT NOTICE
 Certain parts of the tours on offer are provided by independent third parties, such as airlines, hotels, transport operators and local tourist offices. Happy Go Travel is therefore not responsible for any loss, injury or damage caused thereby to the tourists, including those occurring outside of the normal touring programmes. Additional expenses incurred due to delay, accident, natural disaster, political actions and unrest shall be borne by the tourists.
 Programmes, prices, services and conditions are based on those valid at the time of proposal submission and are subject to change thereafter without advance notice until all services have been paid in full.
 We strongly advise to leave valuable items (money, passport, credit cards, jewellery, sensitive documents, laptop computer, etc.) in the hotel safe. During excursions and roundtrips, personal belongings, especially money and valuables should NEVER be left on vehicles, even during short breaks, and carried around at all times. Happy Go Travel is not responsible for any loss or theft.
 Vietnam being a developing country is in full process of upgrading its infrastructure. Therefore, driving overland can be cumbersome due to ongoing road constructions.
TRAVELLED WITH US?
If you wish to give us some feedback about your holiday in Vietnam, please visit our website happygotravel.vn, choose Vietnam and go to "Travelled with us?"
Thank you in advance for your valuable thoughts and time. Your feedback will surely help us to continuously improve our products and services.
Types de cabines:
double, twin, triple
Capacité:
4 - 5 voyageurs
Langues parlées:
Vietnamien, Français, Anglais
Mode de paiement:
Par carte de crédit, par virement, en liquide
Activités:
Visite, balade à pied, à vélo et en sampan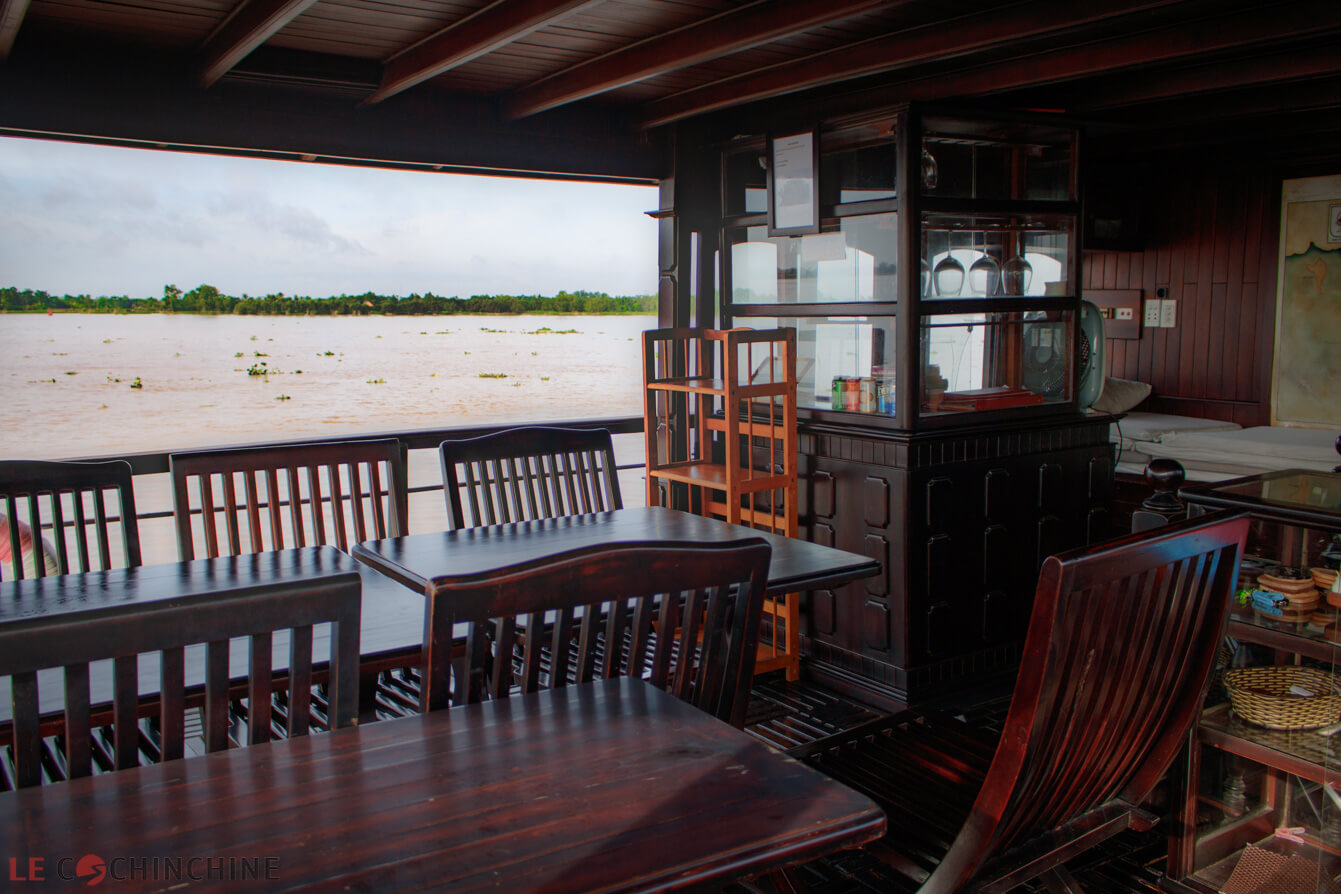 Types de cabines:
double, twin, triple
Langues parlées:
Vietnamien, Français, Anglais
Mode de paiement:
Par carte de crédit, par virement, en liquide
Activités:
Visite, balade à pied, à vélo et en sampan
Types de cabines:
double, twin, triple
Capacité:
15-16 voyageurs
Langues parlées:
Vietnamien, Français, Anglais
Mode de paiement:
Par carte de crédit, par virement, en liquide
Activités:
Visite, balade à pied, à vélo et en sampan
Types de cabines:
double, twin, triple
Langues parlées:
Vietnamien, Français, Anglais
Mode de paiement:
Par carte de crédit, par virement, en liquide
Activités:
Visite, balade à pied, à vélo et en sampan
The Boat
General
Le Cochinchine Cruise is a modern and tastefully designed river barge. Built in traditional style Le Cochinchine Cruise measures around 30 meters long from bow to stern and has two 420 HP engines , one in back up, making Le Cochinchine Cruise a very powerful and safe river vessel.
Le Cochinchine Cruise offers an elegant, relaxing and fulfilling ways to explore endless water way of Mekong River. The cruise brings us into contact with people in different corner of the Delta . With Le Cochinchine Cruise, you will have ample opportunity to see Vietnam in its authenticity and sample local culture and food, in a one unpacking, unforgettable vacation where your "floating hotel" get you insight into Mekong Delta and quaint villages.
Aboard Le Cochinchine Cruise you will enjoy the continuous and ever-changing scenery as you encounter a lively world of legendary waterways and picturesque landscapes, floating markets, lush bonsais garden, rice fields, villages, pagodas and temples, fruit-filled orchards, boat laden bazaar and a host of smiling children.
Always more than you expect !
Cabins
Each cabin has its own air-conditioning unit, which can be adjusted for your comfort. We recommend you do not over- cool your cabin as the sudden change from the outside temperature to a chilled cabin can bring on colds, respiratory illnesses and even stomach upsets. When you go out, we recommend you turn the setting to 'Lo Cool', set at about 4, and then when you return you can readjust the temperature to your preference without having to wait for cool air. At night you may prefer to use the fan only, and have the windows open. Insect netting covers the windows to enable you to do this. Please do not leave your air-conditioner on with the window open - this results in energy loss (the equivalent of switching on the heating and opening the windows in a cold country!
We care of your sweet dream !
Inside Facilities
Restaurant & Bar
Dining
Meals on board Le Cochinchine Cruise are taken at one sitting. It is not necessary to sit at the same table each time and we have tables for individuals, couples right up to larger groups. We offer a mixture of local cuisine with richly flavor and taste and there are always vegetarian dishes offered. Passengers requiring special diets, such as vegetarian, low salt & low cholesterol meals, may make their requests to the chef when onboard. The chef will try to honor all requests. Exotic fruit, fresh organic vegetables, locally caught fish and prawns are the preference of most of our passengers.
The bar
The cruise bar is always open, it offers while selection of drinks includingfamous wine French, Australian, Italian wine.
High-quality wooden and bamboo decor

Air –condition

High-quality bed (double:160cm x 200cm; twin: 110cm x 200cm)

Fresh flowers

In-house Telephone

Wooden wardrobe

Indochina pictures

Safety Equipment and Life Vests
Sundeck
The sun deck is located on the top of our boat, It is spacious for your relaxation and suntans . For your enjoyment, there are plenty of deck chairs.
Activities
Optional activities :
Bicycles on board

Row boat on board

Sight-seeing excursions
Bicycles
Bicycles are carried onboard. Crew will be happy to help you with bike adjustments and getting it on and off the barge. Please remember to use caution when riding along towpaths or into villages. A decision to engage in cycling during the cruise constitute the travellers assumption of all risks associated and an agreement not to make a claim against the barge owners for any personal injury, death or property damage that arises out of such activity.
Kayaking
Exploring the Mekong Delta with kayak along the small canal and arrayos.
Cruise Manager
An experienced, English /French -speaking Passenger Service Manager accompanies every departure. They are there to ensure your comfort, answer questions and make your vacation the most memorable trip ever.
Kid Room
This play rooms will keep your baby busy with different games as chess, playing card, darts, dominos, toys, and reading, painting books.